An exposure control plan (ECP) presents an essential document for businesses in which employees are handling hazardous materials. An ECP is a part of an organisation's chemical or health and safety management system, a document that guides to prevent exposure to workers. Many regulatory bodies worldwide are issuing regulations that require employers to develop and use exposure control plans or programs for the workplace.
Exposure control plans are usually part of chemical management systems when we talk about hazardous chemicals and their handling and management. They are developed together with chemical management programs or plans. When preparing their chemical inventories, businesses at the same time can assess the health hazards associated with these chemicals and implement different exposure control measures such as elimination, substitution, engineering controls, administrative controls and use of the mandatory personal protective equipment (PPE) to reduce the exposure of personnel to dangerous chemicals.
This article will learn what steps should be taken when preparing the exposure control plans.
First, we need to know what substances require an exposure control plan when they are handled. This depends a lot on the local legislation requirements, but in general, exposure control plans are needed for hazardous chemicals that can manifest severe adverse health effects. Substances with carcinogenic, mutagenic, reproductively toxic, corrosive, acute and chronic toxicity effects are the most dangerous materials and require exposure control plans. Chemicals that may require an exposure control plan are, for example, arsenic and its compounds, mercury and its compounds, lead and cadmium and their compounds, ammonia, methanol and other substances that emit toxic gases, even diesel or welding fumes, etc.
An easy way to recognise whether your chemicals require ECP is by checking the labels and safety data sheets (SDS) and pictograms. If your chemical has GHS08 - Serious health hazard (Symbol: health hazard) pictogram, then it is highly likely that the said chemical requires an ECP.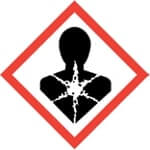 GHS08 – Health hazard
Traditionally, exposure control plans are developed by HSE experts in industrial hygiene. These people are usually external consultants who would come out to the worksite and perform hazard assessments of the chemicals found at the workplace. But in case that anything changes, for example, new chemical products are introduced, these consultants would need to be hired again and modify the current or issue new exposure control plans.
Today, many online software tools are available, which can help you develop effective and adaptive exposure control plans for a fraction of the consultants' price.
Development of Exposure Control Plans
When developing the ECP, the most important thing is to perform a correct workplace hazard assessment. This includes assessing the health hazards associated with hazardous chemicals or infectious materials at the workplace. A ' Hierarchy of Controls ' system is usually used to identify potential occupational hazards, assess the risk of exposure, and select control measures. This system, or methodology, is widely accepted and used to help companies minimise and reduce exposure and risk while handling hazardous materials.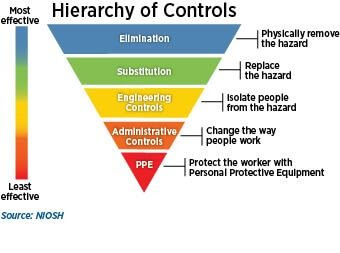 How is the 'Hierarchy of Controls' methodology used in Exposure Control Plans?
Effective control measures should protect workers from workplace hazards by helping them avoid injuries, illnesses, and incidents and minimise or eliminate safety and health risks. Their implementation will help employers provide workers with a safe and healthful workplace.
National Institute for Occupational Safety and Health (NIOSH) recommends five methods in their hierarchy of controls diagram (see diagram 1.). These five control methods are ranked from the most effective to the least effective from top to bottom. The most effective exposure controls are at the top of the triangle. The five most used exposure controls are:
Elimination

Substitution

Engineering controls

Administrative controls

Personal protective equipment (PPE).
When developing the ECP, it is essential to know each level of exposure control and under which circumstances they apply. An ECP should describe how the selected controls will be implemented. Serious hazards should be addressed first, but the overall goal is to ensure effective long-term control of all hazards. When implementing the ECP, it is essential to track progress toward completing the control plan and periodically (at least annually and when conditions, processes or equipment change) verify that controls remain effective.
When creating the ECP it is essential to:
List the hazards needing controls in order of priority – from most dangerous to least dangerous.

Assign responsible person for implementation of the control measures – designate person or persons with the power or ability to implement the controls.

Define a target completion date – a date when the ECP will be completely implemented.

Track progress toward completion – define how you will track the progress by planning.

Define how to verify the effectiveness of controls after they have been implemented – it's important to know how effective the measures are.
Implementation of selected exposure controls in the workplace
After identifying the hazard prevention and control measures, they should be implemented according to the exposure control plan.
The most effective way for implementation of exposure controls in the workplace is by:
Implementing the hazard control measures according to priorities is established in the exposure control plan.

Implementing measures on a "worst first" basis, according to the hazard ranking priorities (risk) established during hazard identification and assessment when the resources are limited – when the resources for control measures are limited, the highest risks should be handled first. But please note, however, that regardless of limited resources, employers must protect workers from recognised hazards.

Immediately implement any easy and inexpensive measures—e.g., general housekeeping, removal of obvious tripping hazards such as electrical cords, sorting of tools and equipment, essential lighting—regardless of the level of hazard they involve.
Elements of an Exposure Control Plan
When it comes to ECP requirements, the legislation does require certain elements to be included in the plan. Still, ultimately, the company's exposure control plan must be custom-tailored to their needs.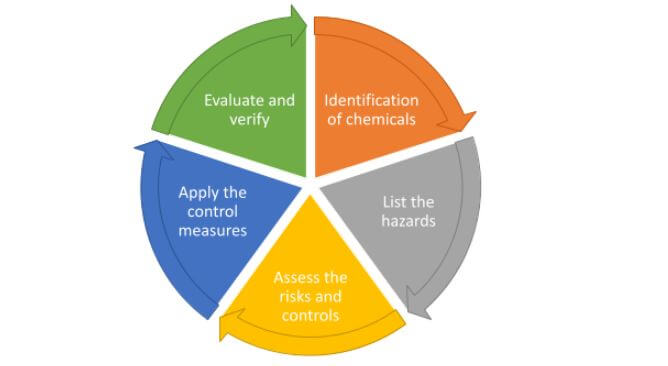 First, the company needs to identify and sort all chemicals used at the workplace. After the inventory is prepared, it is essential to list and understand all of the hazards present at the workplace, together with the quantities and frequency of usage of these hazardous materials. Following that, risk assessments need to be performed in which the suitable and most efficient control measures will be selected. When appropriate control measures are set, the responsible person or persons should make sure that these controls are also applied. All employees exposed to hazardous products must be trained and informed on using them and which preventive and protective measures are in place. They should learn how to follow the exposure control plan while handling the chemicals. Finally, a company should have a plan to verify and evaluate the effectiveness of applied control measures after they have been implemented. The ECPs should be revised and reviewed regularly and with each change introduced at the workplace (e.g., introducing a new chemical, increasing frequency or quantities of usage, etc.).